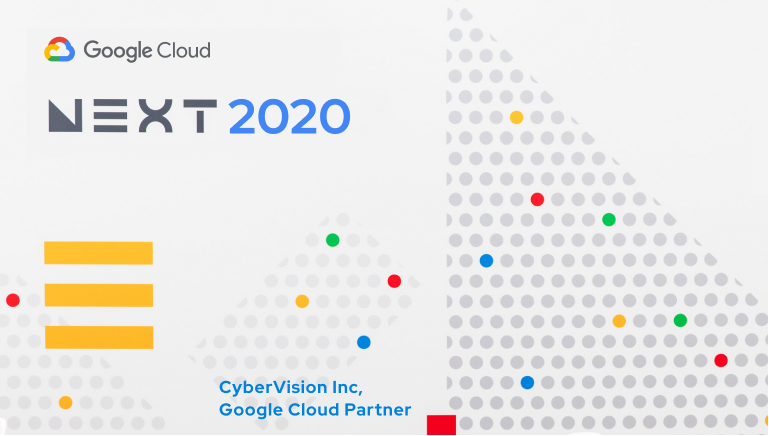 We are happy to announce that CyberVision, a Google cloud partner, will be exhibiting at the upcoming Google Cloud Next conference, April 6-8, 2020 in San Francisco. This will be a perfect place to have a word with cloud experts from all over the world and find out what the industry will have to offer this year. So, mark your calendars and make sure you stop by Team CyberVision's booth at #GoogleCloudNext2020!
From our broad experience with Google Cloud Platform as a system integrator and custom solution developer, we can definitely say why it made a great headway on the market. It totally fits the bill for businesses who only need the basics of cloud technology, i.e. a cost-efficient cloud-based data storage and applications that are always in sync and can be accessed even from your phone's browser. But it also provides unlimited flexibility and a vast ecosystem of solutions for more advanced needs, including Big Data analytics, hyperscale data storage, and AI features. Migration to Google Cloud opens up every possibility for your digital transformation.
Apart from time-proven best practices and common success stories, the event will be surely dedicated to how Google Cloud Platform is a cloud innovation leader. And that's where CyberVision has also much to contribute. We were among the first to deliver a large-scale distributed analytics solution based on the recent Google Cloud Data Fusion product. With our in-depth experience and contributions to CDAP – an open-source framework behind CDF – we offer perhaps the most extensive CDF support services to date.
From all appearances, the upcoming Google Cloud Next event is set to be a solid package of educational sessions, insights from prominent experts, networking, and exhibition. If you're going to San Francisco on those dates, you will definitely meet a lot of great people there.