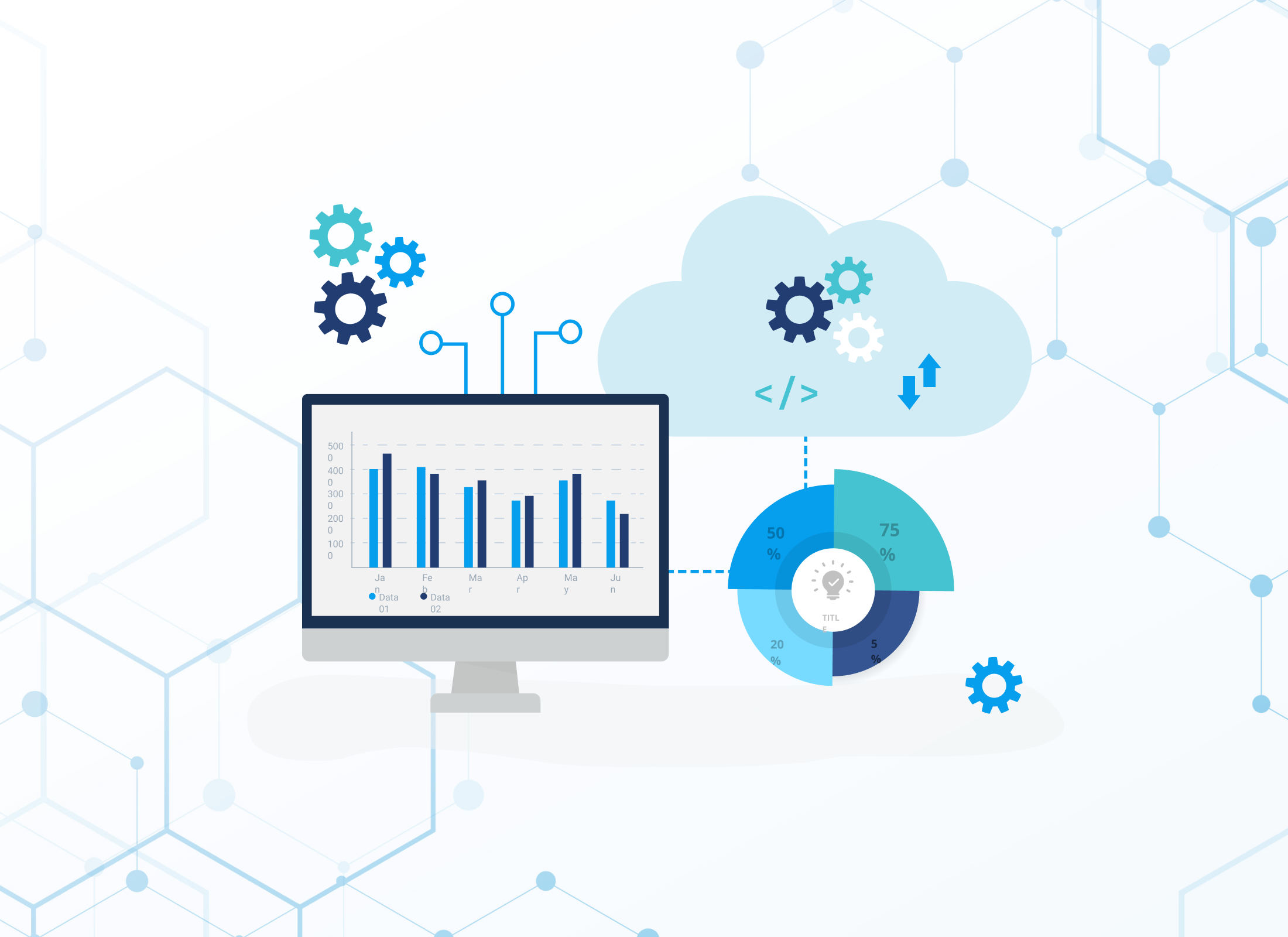 Cloud has become a pivotal technology for companies who want to keep up with modern best practices for digital enterprise transformation. Legacy systems running on mainframes and on-premises data centers simply cannot match the performance and efficiency of this new generation of cloud-based applications. Due to its elegant paradigm of shared computing resources, cloud has also become the byword for operational efficiency, driving down software and hardware maintenance efforts for all types of organizations. But it's even more than that. Apart from usual cloud efficiencies, we are standing on the threshold of a deeper innovation that will further empower businesses with the next generation of analytics, AI, and IoT development tools running in the cloud. At least that's what Google Cloud Platform is clearly set to achieve.
Getting Started with Cloud
Cloud migration isn't something that companies usually do in one fell swoop. It is a gradual process that largely depends on painstaking calculation as to which workloads, data, and applications will benefit from the cloud hosting. A standard approach recommended by Google consists of the following phases: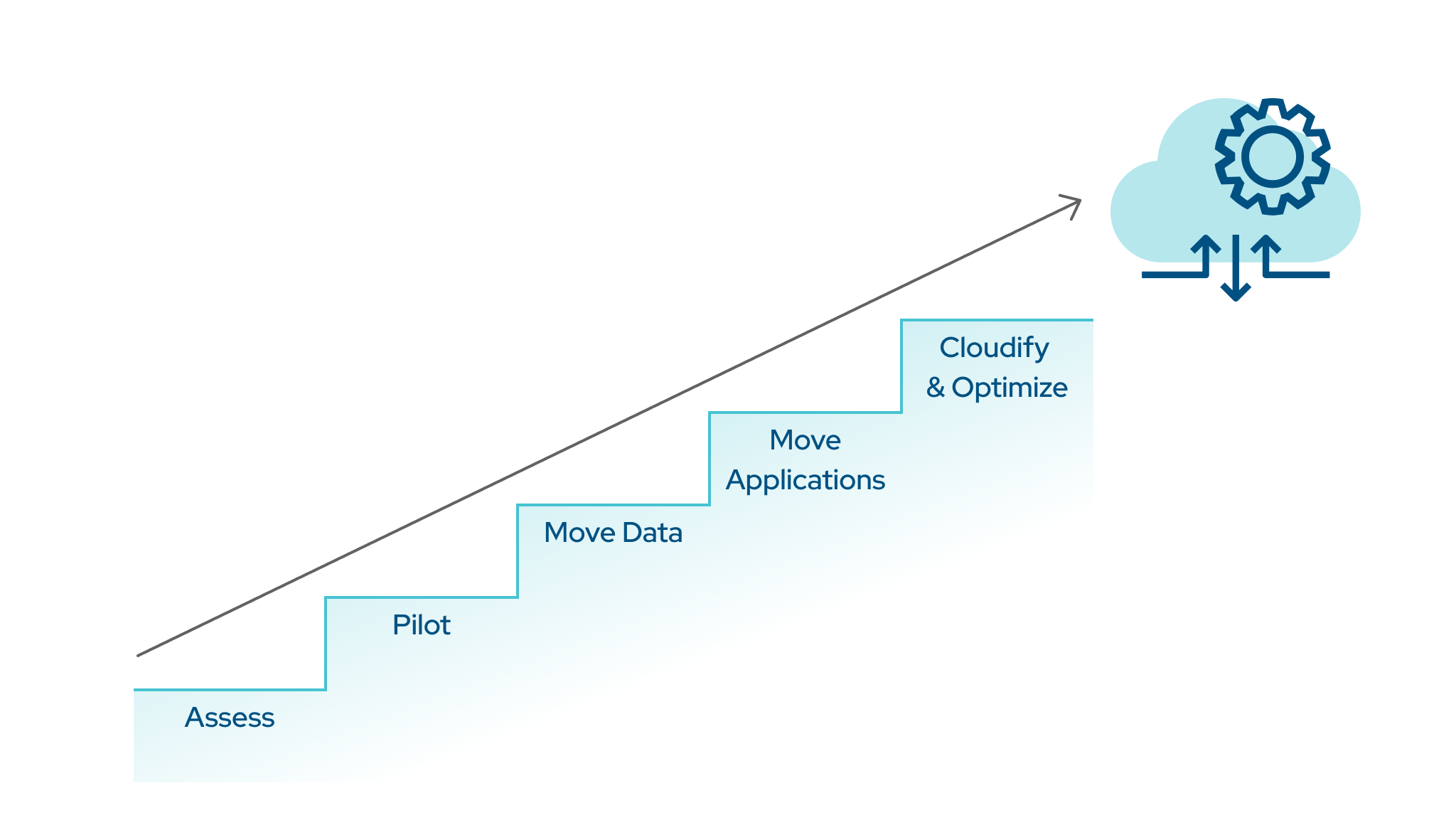 This cloud adoption trajectory ensures maximum transparency of the migration process and minimizes the risk of process disruption. First, you assess the need and potential benefits of cloud, then run a pilot project to validate your hypothesis, move your selected data and applications, and, finally, optimize their performance, back-up, and monitoring in the cloud. If done right, some common benefits of such cloud migration include:
Pay-as-you-go, scalable computing resources
Fast application deployment with minimized DevOps overhead
Geographically distributed deployment that improves performance, ensures high availability, and speeds up collaboration between remote development teams
Readily available tools for system monitoring, back-up, and disaster recovery
Many Levels of Cloud Migration
However, the path of cloud transformation doesn't stop at the moment when you move your digital core to the cloud. You may think of the initial cloud migration as level 1 in the grand scheme of your business "cloudification". On this level, you reap the above-mentioned benefits of usual cloud efficiencies, such as cost and speed, and also set the ground for further optimization.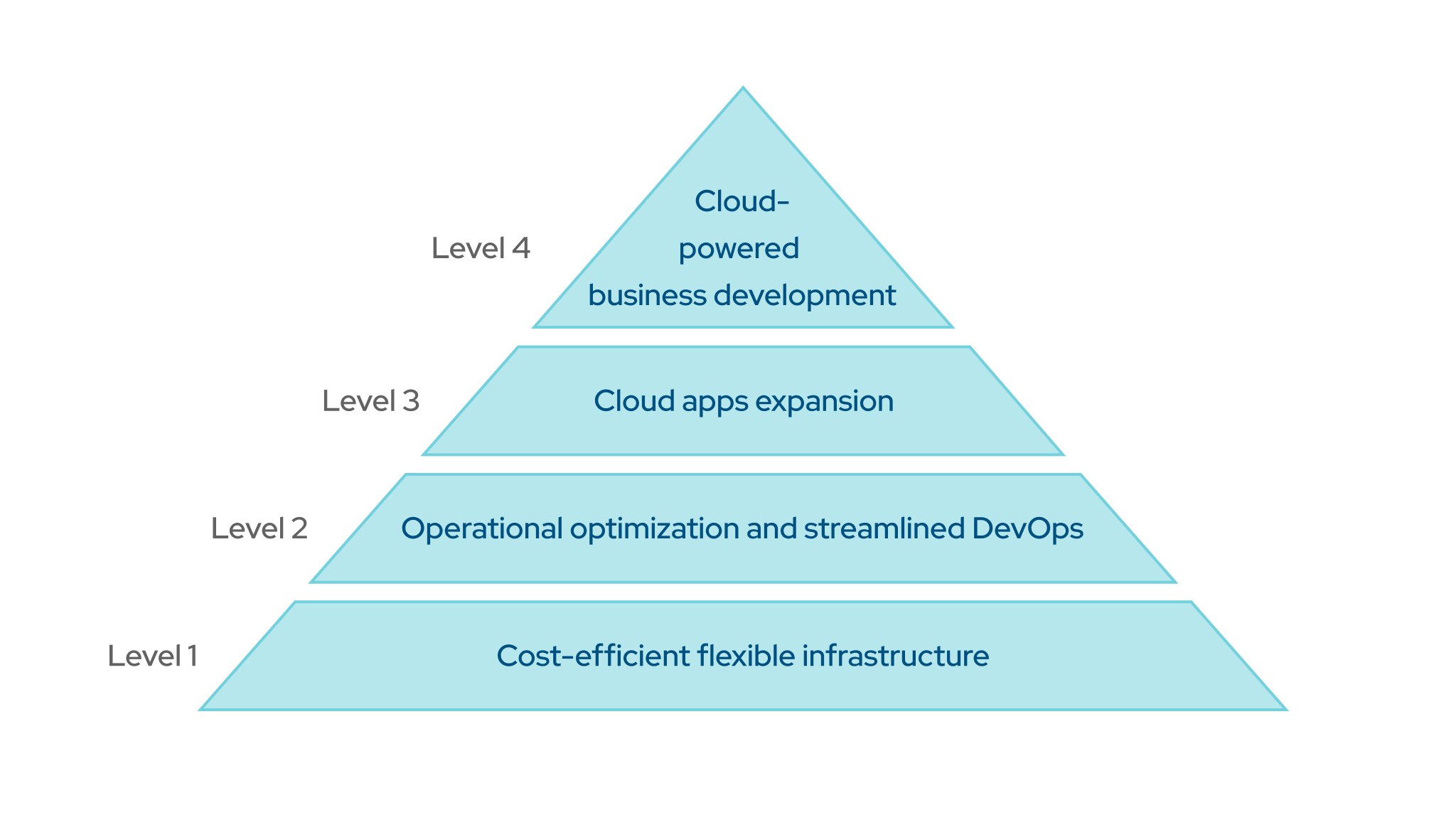 On level 2, organizations optimize their operations by combining DevOps practices with technical improvements in CloudOps offered by cloud platforms to achieve a faster CI/CD pipeline and a better response to their customer's needs.
Going up to level 3, you expand your choice of cloud applications by tapping into rapidly growing numbers of such software offered by cloud platform providers as well as third parties. Now that your company's IT core has been moved onto the flexible cloud architecture, it gets much easier to integrate with other apps and services using the latest technologies like containers, microservices, and serverless functions.
Finally, on level 4, companies reimagine their entire business development strategies and include cloud as part of their own products and services. One way to do that is to deliver advanced cloud analytics, AI, or IoT applications on top of their standard offerings. With cloud, any company can create modern SaaS (software-as-a-service) solutions much faster and move upmarket with "smart" features that tech-savvy customers will enjoy.
Among the top cloud providers, Google offers perhaps the most comprehensive vision for the role of cloud technology in end-to-end enterprise transformation. Their strategy is already making a strong impact on the future of cloud computing.
Why Google Cloud Platform is Peaking
Google used to be an underdog in the club of cloud computing giants, but the company took everyone by storm with a clever cloud innovation strategy focused on advanced analytics and AI enablement. Google Cloud's CEO Thomas Kurian recently shared his vision by disclosing that his #1 priority is to create a new breed of enterprise applications powered by Machine Learning and AI. In that way, Google will capitalize on its broad expertise in the cutting-edge technology and outflank competition, who are still focused primarily on traditional business applications.
Giving credit to Google Cloud's rapid innovations as well as their customer-first culture, vastly reinvigorated under Thomas Kurian, Cloud Wars recently put them on #4 on their Cloud Wars Top 10, up from #9 where they were about a year ago.
One example of Google's growing ecosystem of innovative cloud apps is Cloud Data Fusion, launched last year. It is a fully managed, cloud-native data integration service that helps users build and manage ETL/ELT data pipelines via an intuitive graphical UI that almost totally eliminates the need for coding. CyberVision has already used this new tool for a large-scale Telecom Big Data project and it proved to be of great help for data engineers, business analysts, and project managers.
More Opportunities
While using cloud for business process automation, such as CRM, ERP, etc., is still a primary area of investment for a majority of companies, there are more exciting opportunities that modern cloud technologies have to offer. ML, AI, and analytics solutions are clearly making their way into mainstream as companies become increasingly more accustomed to data-driven decision making. Another field of opportunities is presented by the Internet of Things, which uses cloud computing to remotely connect, manage, and analyze all kinds of devices. Convergence of modern technologies makes сloud much more than a conveniently scalable infrastructure but an essential catalyst for these technologies. Google Cloud has clearly put innovation at the top of their cloud strategy. Other cloud giants will have to look at their own roadmaps from a different angle in order to keep up with Google's disruptive force.